Scripting Basics
---
Most ScanEngine Explorer action can be automated by script. Script commands are provided that can perform:
Communications actions

web fetch
snmp get, set, next, or bulkget
ping

access to all ScanEngine Explorer global variables
create temporary variables and assign initial values
misc program actions

charting
logging

transaction log
message content log
text log
logfile renaming
deleting

database reading & writing
emailing

logical testing (if / else)
full math expression evaluation
automatic script repetition control
Some ScanEngine Explorer actions that cannot be automated by script, are:
loading and saving workspaces
loading and saving scripts
loading and saving preferences
loading and saving transaction logs
loading, saving, or editing html parsing scripts
The guideline for ScanEngine Explorer is to provide scriptable functionality to automate communication monitoring and/or control, while ScanEngine Explorer environmental control remains manual.
Scripts are created, edited, tested, and run in a script panel. The script panel provides the following functions:
loading and saving scripts
adding, deleting, or inserting lines
moving script lines up or down
initializing, running, stopping, pausing, resuming, or single stepping scripts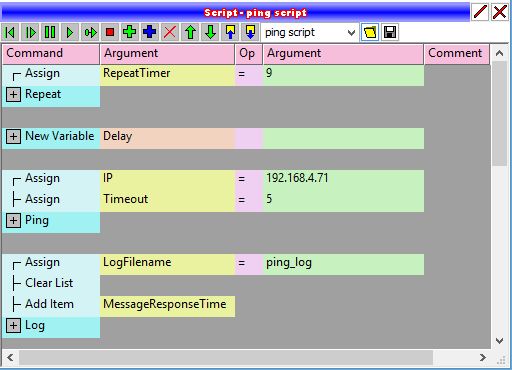 ---
© 2014 ComroeStudios LLC. All Rights Reserved.