---
Taking Screenshots
DisplayClone can take screenshots both in Display Clone and out of it.
When the display is being cloned, screenshots are of the primary display only. Otherwise screenshots are of the full desktop.
To take a screenshot manually, hit the "Save Screenshot Hotkey". (see defining hotkeys)

Screenshots can also be taken automatically on Display Freeze.

Screenshots can be saved in a variety of formats that you can select from.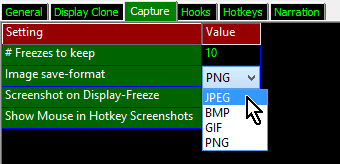 The mouse cursor can be optionally stored or not stored in the image file.
This feature employs multi-threaded deferred encoding and attempts to take snapshots as close as possible to the time of your keypress.
(It is possible to rapidly hit the screenshot key to take a burst of snapshots, though encoding may complete some-time later)
Screenshots are stored to %USERPROFILE%\Documents\ComroeStudios\DisplayClone\Screenshot, and automatically are date & timestamped.
(You can also just navigate to your documents folder by hand)
Enter the user folder:

Enter the documents folder: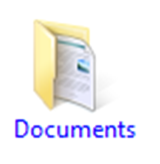 Enter the ComroeStudios folder:

Enter the DisplayClone folder:
And finally enter the Screenshot folder:

Alternatively, you can open the screenshots folder from the right-click tray-menu.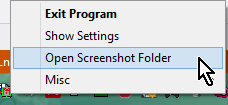 The screenshot folder: