---
Troubleshooting Hotkeys
When things don't work:
If for whatever reason a hotkey simply will not work & does nothing, it's possible that a key has gotten jammed or that the OS, DisplayClone, or both believes that the key is still depressed.
-Simulate a key-up press on all keyboard keys to attempt to troubleshoot this.


If the hotkey still does not function, it's possible that DisplayClone does not understand your hotkey 'string'. (a RED highlight indicates an issue)

-This hotkey was not recognized.

-This hotkey was recognized.

-Hotkey entry is not case sensitive.
It is also important to be aware that numeric keys have special definitions (see defining hotkeys). There are different key definitions for numpad keys and standard numeric keys.
-For instance, "CTRL, 1" has a different meaning than "CTRL, numpad 1", or "CTRL, num 1":
"CTRL, 1" will be interpretted as key-code '1', which is the left-mouse button. This probably is not your intention!
"CTRL, num 1" will be the numerics row at the top of the keyboard.
"CTRL, numpad 1" will be the 1 in the numeric keypad at the right side of the keyboard.
Try to enable "Aggressive" filter for keyboard and mouse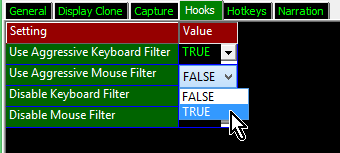 -Aggressive mode will employ various tricks to prevent programs with higher elevation blocking DisplayClone's hotkey functions.
Make sure that hooks are not disabled.
If all else fails, and you're still having problems interacting with the program, write us at: