---
Return to Prior Display Freeze
Each time that the Display Freeze function is toggled, the generated frozen screen is kept like a presentation slide.

You can navigate forward and backwards through these captures using hotkeys. (during DisplayFreeze being toggled)
-see defining hotkeys to customize these

Hotkeys can be assigned or re-mapped from the settings window.
The number of Display Freeze captures can be customized from the "Capture" tab of the settings window.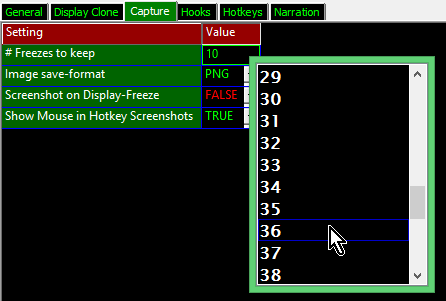 The temporary Display Freeze history is stored in RAM. While it may be tempting to enter extremely high values, it is advised to use a realistic value in order to not waste memory.
-Keep in mind that the purpose of this function is to re-visit a recently past topic during a live presentation.
TLDR: Toggle Display Freeze 'on' and then hit "CTRL, SHIFT, LEFT ARROW" or "CTRL, SHIFT, RIGHT ARROW" to move back and forward through prior captures.